"Introduction to Poetry"
By Billy Collins
I ask them to take a poem
and hold it up to the light
like a color slide
or press an ear against its hive
I say drop a mouse into a poem
and watch him probe his way out,
or walk inside the poem's room
and feel the walls for a light switch.
I want them to waterski
across the surface of a poem
waving at the author's name on the shore.
But all they want to do
is tie the poem to a chair with a rope
and torture a confession out of it.
They begin beating it with a hose
to find out what it really means.
April showers may bring flowers, but it also brings National Poetry Month.
Begun in 1996 and inspired by the success of Black History Month (February) and Women's History Month (March), every year the Academy of American Poets organizes the celebration to increase awareness and appreciation of poetry in the U.S. – and this celebration has fared much better than expected, spreading to Canada in 1998, and then in 1999 with UNESCO declaring March 21st World Poetry Day to, as they said, "give fresh recognition and impetus to national, regional and international poetry movements."
Immediately in 1996, National Poetry Month took off with President Bill Clinton declaring that "National Poetry Month offers us a welcome opportunity to celebrate not only the unsurpassed body of literature produced by our poets in the past, but also the vitality and diversity of voices reflected in the works of today's American poetry….Their creativity and wealth of language enrich our culture and inspire a new generation of Americans to learn the power of reading and writing at its best."
Each year the celebration has grown. In 1998, the Academy of American Poets and the American Poetry & Literacy Project distributed 100,000 free poetry books from New York to California, while the White House held a gala featuring Poets Laureate Robert Pinsky, Robert Hass, and Rita Dove. In 2001, Langston Hughes won his own stamp from the United States Postal Service after the Academy held a vote during that year's celebration. The Empire State building decided to join in on April 5, 2005 by illuminating with blue lights, and in 2006 Poem-a-Day was launched where Poets.org publishes a new poem each day in April. And starting in 2012, the Academy launched Dear Poet, a project for students to read and write poems, some of which get to be published on their website.
Here at Bucknell University, the school holds its own celebration with participation of National Poem in Your Pocket Day on April 19. The Stadler Center will distribute postcards featuring poems by students, faculty, and staff, and then hold an outdoor reading on the Langone Center lawn.
The Bucknell Press, too, has long held an appreciation for poetry and, from 1999-2003, published many works in The Bucknell Series in Contemporary Poetry. Included in the series are: Touch: Poems by Karl Patten (1999), The Ten Lights of God by Afaa Michael Weaver (2000), Alpha Ruins by Charles Borkhuis (2000), The Ten Lights of God by Afaa Michael Weaver (2001), The Fiddler's Trance by Floyd Skloot (2001), Alluvial by Katherine Soniat (2001), The Disappearing Poet Blues by Marc Hudson (2002), Swimming With Dolphins by Adrian Oktenberg (2002), Blues Baby: Early Poems by Harryette Mullen (2002), Poems and Elegies by Olga Sedakova translated by Slava Yastremski (2003), Poems and Elegies by Olga Sedakova and translated by Slava Yastremski and Michael M. Nayden.
This month, in honor of National Poetry Month, we would love to feature some of our past poetry books. Catastrophic Bliss by Myronn Hardy contemplates longing and is a winner of the Griot-Stadler Prize for Poetry. The Essential Poetry of Bohdan Ihor Antonych: Ecstasies and Elegies translated by Michael M. Naydan celebrates the Lemko-Ukrainian poet by gathering together his best works. Cipango by Tomás Harris and translated by Daniel Shapiro comments on the oppressive legacy of colonialism in Latin America through poetry while Swimming with Dolphins by  Adrian Oktenberg recasts creation. The Ten Lights of God by Afaa Michael Weaver explores the metaphysics of human consciousness and Irish Poems: From Cromwell to the Famine collected and edited by Joan Keefe presents long-lost Irish poems in new form.
Catastrophic Bliss
By Myronn Hardy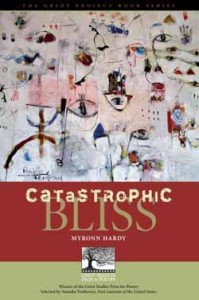 2012
The Griot Project Book Series
Winner of the Griot-Stadler Prize for Poetry
Catastrophic Bliss contemplates the longing to understand connections and disconnections within a world ever more fragmented yet interdependent. With allusions to Dante, Stevie Wonder, Fernando Pessoa, Persephone and Marianne Moore, these poems move from the tumultuous to the sublime: a pit bull killing an invading thief, two people on a New York City subway playing chess, Billy Eckstine recording in Rio de Janeiro, to an imagined Barack Obama writing poems to his father. Myronn Hardy's third collection comprises war, place, love, and history all yearning to be reconciled.
The Essential Poetry of Bohdan Ihor Antonych: Ecstasies and Elegies
By Bohdan Ihor Antonych
TRANSLATED BY: MICHAEL M. NAYDAN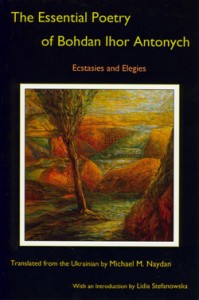 2010
This volume gathers together translations of the best works from all six of the extraordinary extant collections by Lemko-Ukrainian poet Bohdan Ihor Antonych's (1909-37): A Greeting to Life (1931), The Grand Harmony (1932-33), Three Rings (1934), The Book of the Lion (1936), The Green Gospel (1938), and Rotations (1938), as well as poetry published separately. It includes a translator's note and a biographical sketch on the poet by Michael M. Naydan and a comprehensive introduction by Dr. Lidia Stefanowska, one of the world's leading experts on Antonych's poetry and an Assistant Professor at Warsaw University.
While Antonych is not a household name in the discourse on Modernism that includes such great Slavic poets as Mandelstam, Pasternak, and Milosz, as well as their Western European counterparts Eliot, Rilke, and Lorca, in the opinion of many literary critics, he unquestionably should be. Critics have also compared him to Walt Whitman and Dylan Thomas. Only a small amount of Antonych's works has been available in English to date. In 1977 émigré Ukrainian poet Bohdan Boychuk with the American poets Mark Rudman and Paul Nemser translated and published a small, but well-received, book of Antonych's selected poems, A Square of Angels. The current edition of ninety-six poems complements that earlier volume with nearly two-thirds of the translations appearing in English for the first time and honors Antonych on the hundred-year anniversary of his birth.
Cipango
By Tomás Harris 
TRANSLATED BY: DANIEL SHAPIRO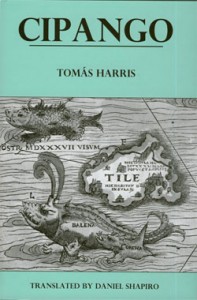 2010
Chilean poet Tomás Harris's Cipango–written in the 1980s, first published in 1992, and considered by many to be the author's best work to date–employs the metaphor of a journey. The poems collectively allude to the voyage of Columbus, who believed that he'd reached the Far East ("Cipango," or Japan), not the Americas. Building on that mistaken historical premise, Cipango comments on the oppressive legacy of colonialism in Latin America–manifested in twentieth-century Chile through the 1973 military coup by Augusto Pinochet and the brutal dictatorship there–and on the violence and degradation of contemporary urban society. The author's vision is of a decadent, apocalyptic world that nonetheless contains the possibility for regeneration.
Cipango is characterized by strange and obsessive imagery–strips of mud, will-o'-the-wisps, vacant lots, blue rats–juxtapositions of contemporary and archaic diction and of incongruous settings that range over time and place; the use of an understated irony; and a dark, incantatory voice. The speakers in various poems address personages such as Columbus, Marco Polo, and the Great Khan, and refer to a breadth of sources including Columbus's diaries, Genet's Our Lady of the Flowers, Bram Stoker's Dracula, Nerval's Aurelia, the Holocaust, Billie Holiday, and the film Goldfinger. The book's content and formal elements combine to produce a work of almost epic scope, one with universal appeal.
Swimming With Dolphins
By Adrian Oktenberg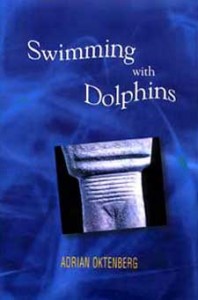 2002
The Bucknell Series in Contemporary Poetry
When Aphrodite rises from the sea to touch her fingertip to Sappho's hand in "The Creation" – the first poem in Swimming with Dolphins – the world begins. From this startling and inventive recasting of creation, Adrian Oktenberg sets the tone for her second collection. An intelligent sensuality pulses through these poems of love and loss – marvelously present in the fullness of pleasure, equally present in moments of crushing grief. The poet refuses to make small any suffering, whether it is personal, as in matters of erotic or familial love, or historical and political, as in her poems on the Argentine "disappeared" and the McCarthyite period in the United States. She finds that "after plain, plenitude comes." "Swimming with Dolphins," the major long poem which is the centerpiece of the books, is a bold exploration of erotic possibilities between women and, at the same time, a lush evocation of the natural world. In profound ways, this book opens our senses and affirms the regenerative power of life and love, even in the face of personal or historical catastrophe.
The Ten Lights of God
Afaa Michael Weaver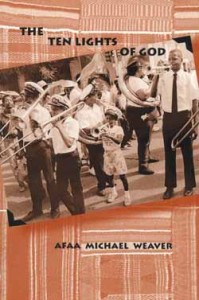 2000
The Bucknell Series in Contemporary Poetry
The Ten Lights of God is a series of eighty-one poems in which Afaa Michael Weaver explores the metaphysics of human consciousness. Influenced by the Language poetry of writers such as Keith Waldrop, Anne Marie Waldrop, and Peter Gale Nelson, the poet weaves the energy of his concern for the lives of African/black men into a tapestry of the Jewish kabbalah with its notion of the body and the life of God being comprised of ten sefirot or lights. The vatic reach of these poems is contexualized in notions of the human interior as its own universe, seeking life and death themselves as the bridges to the unknowable. Weaver seeks to travel the interior of lyricism itself, the nakedness of human consciousness and its own nervous arrangement, which we know as language.
Irish Poems: From Cromwell to the Famine
A Miscellany
Joan Keefe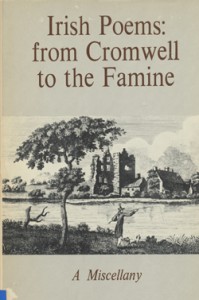 1977
When Irish as a literary and vernacular language died out almost completely after the famine of the 1840s, the existence of a large body of poetry was forgotten, buried in obscure and indecipherable manuscripts. It is certain that a considerable portion was lost, although some poems that had passed into oral tradition, often anonymously, were preserved in folksong. Folklore was also the medium through which fragmentary legends, concerning the poems themselves, lingered. Half a century later a new generation of scholars rediscovered the neglected literature and their labors of transcribing and translating lead to an accessible material that became one of the mainsprings of the two major cultural movements of modern Ireland, the Irish Literary Revival and the Irish Language Revival.
Joan Keefe here presents her new versions of poems that come from the time when the great tradition of Irish poetry, as it had been known for a thousand years, was being brought to an end.