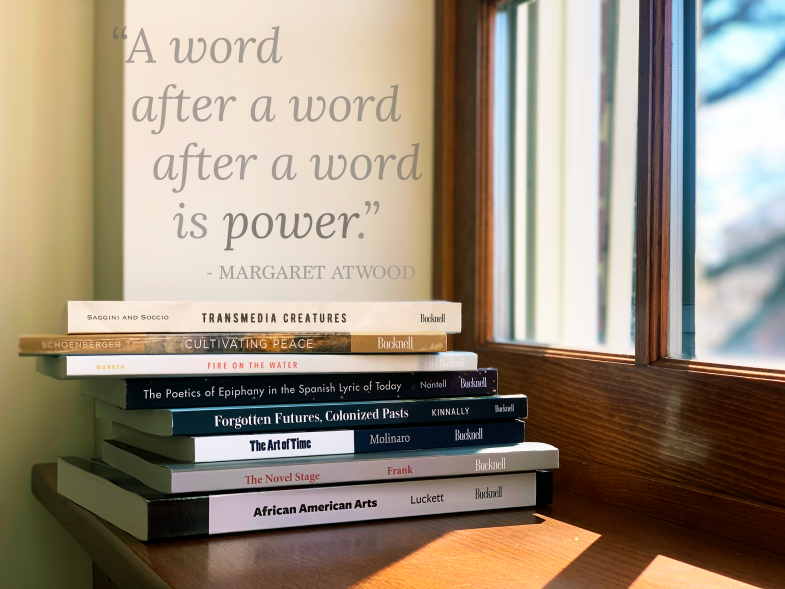 In honor of International Women's Day, we wanted to take the time to highlight some of our incredible female authors.
Fire on the Water: Sailors, Slaves, and Insurrection in Early American Literature
by Lenora Warren
Lenora Warren tells a new story about the troubled history of abolition and slave violence by examining representations of shipboard mutiny and insurrection in late eighteenth- and early nineteenth-century Anglo-American and American literature. Fire on the Water centers on five black sailors, whose experiences of slavery and insurrection either inspired or found resonance within fiction: Olaudah Equiano, Denmark Vesey, Joseph Cinqué, Madison Washington, and Washington Goode. These stories of sailors, both real and fictional, reveal how the history of mutiny and insurrection is both shaped by, and resistant to, the prevailing abolitionist rhetoric surrounding the efficacy of armed rebellion as a response to slavery. Pairing well-known texts with lesser-known figures (Billy Budd and Washington Goode) and well-known figures with lesser-known texts (Denmark Vesey and the work of John Howison), this book reveals the richness of literary engagement with the politics of slave violence.
Transmedia Creatures: Frankenstein's Afterlives
by Francesca Saggini and Anna Enrichetta Soccio
On the 200th anniversary of the first edition of Mary Shelley's Frankenstein, Transmedia Creatures presents studies of Frankenstein by international scholars from converging disciplines such as humanities, musicology, film studies, television studies, English and digital humanities. These innovative contributions investigate the afterlives of a novel taught in a disparate array of courses – Frankenstein disturbs and transcends boundaries, be they political, ethical, theological, aesthetic, and not least of media, ensuring its vibrant presence in contemporary popular culture. Transmedia Creatures highlights how cultural content is redistributed through multiple media, forms and modes of production (including user-generated ones from "below") that often appear synchronously and dismantle and renew established readings of the text, while at the same time incorporating and revitalizing aspects that have always been central to it. The authors engage with concepts, value systems and aesthetic-moral categories—among them the family, horror, monstrosity, diversity, education, risk, technology, the body—from a variety of contemporary approaches and highly original perspectives, which yields new connections. Ultimately, Frankenstein, as evidenced by this collection, is paradoxically enriched by the heteroglossia of preconceptions, misreadings, and overreadings that attend it, and that reveal the complex interweaving of perceptions and responses it generates.
Cultivating Peace: The Virgilian Georgic in English, 1650-1750
by Melissa Schoenberger
During the decades following the English civil wars, British poets seeking to make sense of lingering political instabilities turned to Virgil's Georgics. This ancient poem betrays deep ambivalences about war, political power, and empire, and such poets as Andrew Marvell, John Dryden, and Anne Finch found in these attitudes valuable ways of responding to the uncertainties of their own time. Composed during a period of brutal conflict in Rome, Virgil's agricultural poem distrusts easy stability, urging its readers to understand that lasting peace must be sowed, tended, reaped, and replanted, year after year. Like the ancient poet, who famously depicted a farmer's scythe suddenly recast as a sword, the poets discussed in Cultivating Peace imagine states of peace and war to be fundamentally and materially linked. In distinct ways, they dismantle the dream of the golden age renewed, proposing instead that peace must be sustained by constant labor.

Mikhail Bakhtin: The Duvakin Interviews, 1973
by Slav N. Gratchev and Margarita Marinova, eds.
Whenever Bakhtin, in his final decade, was queried about writing his memoirs, he shrugged it off. Unlike many of his Symbolist generation, Bakhtin was not fascinated by his own self-image. This reticence to tell his own story was the point of access for Viktor Duvakin, Mayakovsky scholar, fellow academic, and head of an oral history project, who in 1973 taped six interviews with Bakhtin over twelve hours. They remain our primary source of Bakhtin's personal views:  on formative moments in his education and exile, his reaction to the Revolution, his impressions of political, intellectual, and theatrical figures during the first two decades of the twentieth century, and his non-conformist opinions on Russian and Soviet poets and musicians. Bakhtin's passion for poetic language and his insights into music also come as a surprise to readers of his essays on the novel. One remarkable thread running through the conversations is Bakhtin's love of poetry, masses of which he knew by heart in several languages. Mikhail Bakhtin: The Duvakin Interviews, 1973, translated and annotated here from the complete transcript of the tapes, offers a fuller, more flexible image of Bakhtin than we could have imagined beneath his now famous texts.
African American Arts: Activism, Aesthetics, and Futurity
by Sharrell D. Luckett
Signaling such recent activist and aesthetic concepts in the work of Kara Walker, Childish Gambino, BLM, Janelle Monáe, and Kendrick Lamar, and marking the exit of the Obama Administration and the opening of the National Museum of African American History and Culture, this anthology explores the role of African American arts in shaping the future, and further informing new directions we might take in honoring and protecting the success of African Americans in the U.S. The essays in African American Arts: Activism, Aesthetics, and Futurity engage readers in critical conversations by activists, scholars, and artists reflecting on national and transnational legacies of African American activism as an element of artistic practice, particularly as they concern artistic expression and race relations, and the intersections of creative processes with economic, sociological, and psychological inequalities. Scholars from the fields of communication, theater, queer studies, media studies, performance studies, dance, visual arts, and fashion design, to name a few, collectively ask: What are the connections between African American arts, the work of social justice, and creative processes? If we conceive the arts as critical to the legacy of Black activism in the United States, how can we use that construct to inform our understanding of the complicated intersections of African American activism and aesthetics? How might we as scholars and creative thinkers further employ the arts to envision and shape a verdant society?
The Novel Stage: Narrative Form from the Restoration to Jane Austen
by Marcie Frank
Marcie Frank's study traces the migration of tragicomedy, the comedy of manners, and melodrama from the stage to the novel, offering a dramatic new approach to the history of the English novel that examines how the collaboration of genres contributed to the novel's narrative form and to the modern organization of literature. Drawing on media theory and focusing on the less-examined narrative contributions of such authors as Aphra Behn, Frances Burney, and Elizabeth Inchbald, alongside those of Samuel Richardson, Henry Fielding, and Jane Austen, The Novel Stage tells the story of the novel as it was shaped by the stage.

The Art of Time: Levinas, Ethics, and the Contemporary Peninsular Novel
by Nina L. Molinaro
Ethics, or the systematized set of inquiries and responses to the question "what should I do?" has infused the history of human narrative for more than two centuries. One of the foremost theorists of ethics during the twentieth century, Emmanuel Levinas (1906-1995) radicalized the discipline of philosophy by arguing that "the ethical" is the foundational moment for human subjectivity, and that human subjectivity underlies all of Western philosophy. Levinas's voice is crucial to the resurging global attention to ethics because he grapples with the quintessential problem of alterity or "otherness," which he conceptualizes as the articulation of, and prior responsibility to, difference in relation to the competing movement toward sameness.
Academicians and journalists in Spain and abroad have recently fastened on an emerging cluster of peninsular writers who, they argue, pertain to a discernible literary generation, provisionally referred to as Generación X. These writers are distinct from their predecessors; they and their literary texts are closely related to the specific socio-political and historical circumstances in Spain and their novels relate stories of more and less proximity, more and less responsibility, and more and less temporality. In short, they trace the temporal movement of alterity through narrative.

The Poetics of Epiphany in the Spanish Lyric of Today
by Judith Nantell
Drawing on the poetry of four major voices in the Spanish lyric of today, Judith Nantell explores the epistemic works of Luis Muñoz, Abraham Gragera, Josep M. Rodríguez, and Ada Salas, arguing that, for them, the poem is the fundamental means of exploring the nature of both knowledge and poetry. In this first interpretive analysis of the epistemic nature of their poetry, Nantell innovatively engages these poets, each of whom has contributed one of their own poems along with a previously unpublished explication of their chosen poem. Each also provides an original biographical sketch to support Nantell's development of a poetics of epiphany.

Modern Spanish Women as Agents of Change: Essays in Honor of Maryellen Bieder
by Jennifer Smith
This volume brings together cutting-edge research on modern Spanish women as writers, activists, and embodiments of cultural change, and simultaneously honors Maryellen Bieder's invaluable scholarly contribution to the field. The essays are innovative in their consideration of lesser-known women writers, focus on women as political activists, and use of post-colonialism, queer theory, and spatial theory to examine the period from the Enlightenment until World War II. The contributors study women as agents and representations of social change in a variety of genres, including short stories, novels, plays, personal letters, and journalistic pieces. Canonical authors such as Emilia Pardo Bazán, Leopoldo Alas "Clarín," and Carmen de Burgos are considered alongside lesser known writers and activists such as María Rosa Gálvez, Sofía Tartilán, and Caterina Albert i Paradís. The critical analyses are situated within their specific socio-historical context, and shed new light on nineteenth- and early twentieth-century Spanish literature, history, and culture.
Forgotten Futures, Colonized Pasts: Transnational Collaboration in Nineteenth-Century Greater Mexico
by Cara Anne Kinnally
Forgotten Futures, Colonized Pasts traces the existence of a now largely forgotten history of inter-American alliance-making, transnational community formation, and intercultural collaboration between Mexican and Anglo American elites. This communion between elites was often based upon Mexican elites' own acceptance and reestablishment of problematic socioeconomic, cultural, and ethno-racial hierarchies that placed them above other groups—the poor, working class, indigenous, or Afro-Mexicans, for example—within their own larger community of Greater Mexico. Using close readings of literary texts, such as novels, diaries, letters, newspapers, political essays, and travel narratives produced by nineteenth-century writers from Greater Mexico, Forgotten Futures, Colonized Pasts brings to light the forgotten imaginings of how elite Mexicans and Mexican Americans defined themselves and their relationship with Spain, Mexico, the United States, and Anglo America in the nineteenth century. These "lost" discourses—long ago written out of official national narratives and discarded as unrealized or impossible avenues for identity and nation formation—reveal the rifts, fractures, violence, and internal colonizations that are a foundational, but little recognized, part of the history and culture of Greater Mexico.