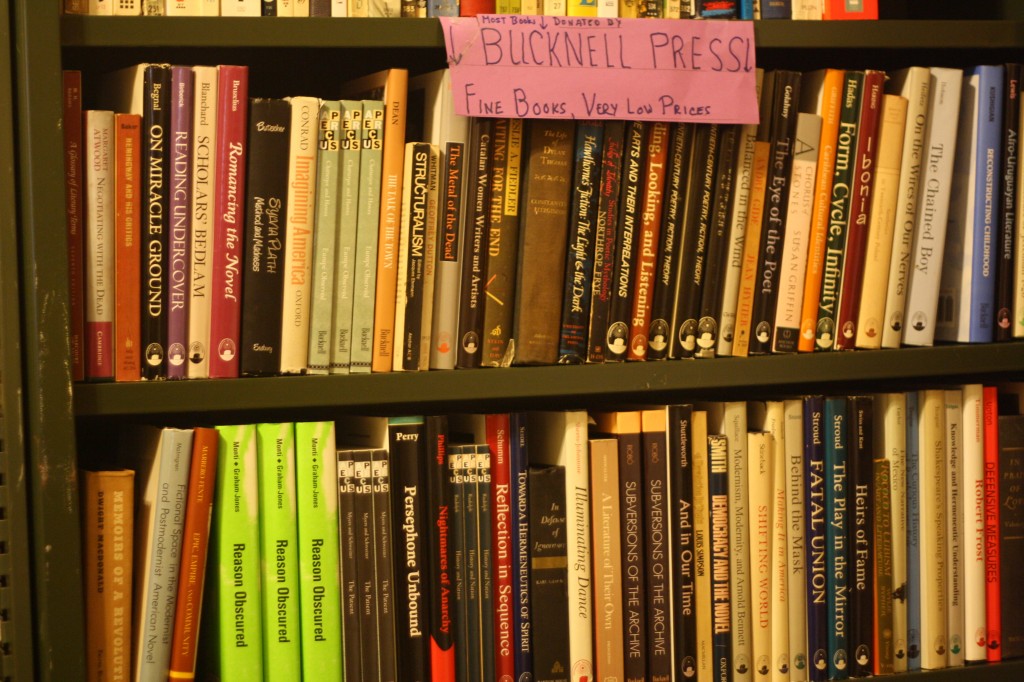 Once you've walked into Mondragon bookstore in downtown Lewisburg, Pennsylvania, it would be difficult not to stay for awhile: walls decorated with vintage posters, eclectic postcards, and local artwork; cozy chairs flanked by tables with dishes containing chocolates; the cheery voices of friends enjoying tea in the back of the store; and, of course, an assortment of books stretching high and far, waiting to be discovered.
And that's to say nothing of Mondragon's founder, Mr. Charles Sackrey.  A retired economics professor who taught at Bucknell from 1980-2002, Mr. Sackrey is an engaged, progressive citizen, a keen storyteller, and always happy to recommend a book or two.  In speaking with Mr. Sackrey, one senses not only his considerable acumen in running a bookstore, but also his larger commitment to the used bookstore as a community center.  Indeed, Mr. Sackrey and his friends run the bookstore as a not-for-profit (the name Mondragon is taken from a worker-owned Spanish corporation), and its upstairs features a large, sunlit meeting space that is used by groups such as the Sierra Club and Organizations United for the Environment. Mondragon's impressive book collection, which spans all disciplines, is aided by donations from Bucknell's English department, faculty, and private libraries.
One of the charms of a used bookstore is that you never know what you might chance upon, whether an out-of-print edition of your favorite book or something completely unexpected.  Mondragon doesn't disappointment here, with a sense of discovery running throughout the store.  In my time there I've found everything from environmental titles to books in the original Japanese.  There's even a small selection of books published by our very own Bucknell University Press!  In short, Mondragon bookstore is one of those increasingly rare places marked by a slower pace of life and commitment to people over profits. In the words of Mr. Sackrey, "Every town needs a used book store."
Mondragon is located at 111 East Market Street, Lewisburg, PA 17837.  They can be reached at (570) 523-1540.
Photographs by Christopher Bradt