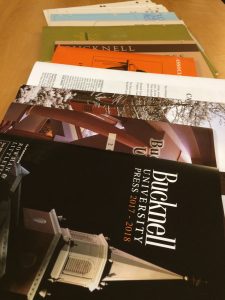 Founded in 1968 as a part of a consortium operated by Associated University Presses, Bucknell University Press has since published over 1,000 titles in academic subjects ranging from the humanities to social and biological sciences. In order to broadcast these books, the press has also been producing an annual catalog which has documented the titles, authors, descriptions, and ordering information as the years have passed. Recently uncovered, the physical copies of these catalogs from 1970-on provide an interesting look into the history of the Press' publications. Each copy is a remnant of the year's hard work from the directors, editors, and authors involved, as well as a creative example of that year's design choices for the cover and formatting of the catalog itself.
Embellishing the covers of some of the earlier catalogs is a simple print of what one might behold in the traditional scholar's study—a still life of a globe, maps, other cartographic instruments, books, writing quills, and an open book ready to receive the writer's thoughts. It is simply drawn and printed in blue on the covers of the catalogs from 1970-1974. These early catalogs also include the first editions of our oldest collection—the Irish Writers Series. In production from 1970-1978, each volume showcases one writer with a full account of their literary career and major works. This series has since inspired a later rendition, the Contemporary Irish Writers Series, which presents a more theoretically-informed perspective on each author's life and work.
With every year, we see the covers change from blue to beige to olive green and many more with the "Universitas Bucnellensis" seal appearing on the front, its signature sun and open book hovering above the ocean current. It is a mark which signifies the light of knowledge and education surmounting the storms of life. Within each catalog we also get a good sense of how book pricing has changed from the 1970s-onwards—starting as low as $4.50 for hardbacks and $1.95 for paperbacks in Fall 1970 to hardbacks ranging from $30 to $100 in most recent years.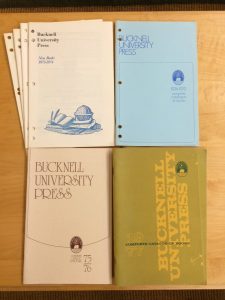 Another unique catalog from 1996 not only features publications from Bucknell University Press, but a listing of prints from all members of the Associated University Presses which also included University of Delaware Press, Fairleigh Dickinson University Press, Lehigh University Press, and Susquehanna University Press. The Bucknell University Press remained a part of this consortium until it ended in 2010 and the Press joined with Rowman & Littlefield Publishing Group, an independent and international publisher of academic, trade, and popular books. During this transitional period, the final catalog from AUP is in its simplest form, 2010-2011 printed black on white without a cover page.
Since then the catalogs have been printed by Rowman & Littlefield and have taken on a whole new visual appeal with quality photographs on each cover. Additionally, each catalogs' interior includes images of the book covers along with their descriptions and ordering information. Most recent copies are even available on the press website with interactive pages that flip forward or backward with each click. Book entries in the online catalogs even link to Rowman & Littlefield's website where visitors can order the books directly.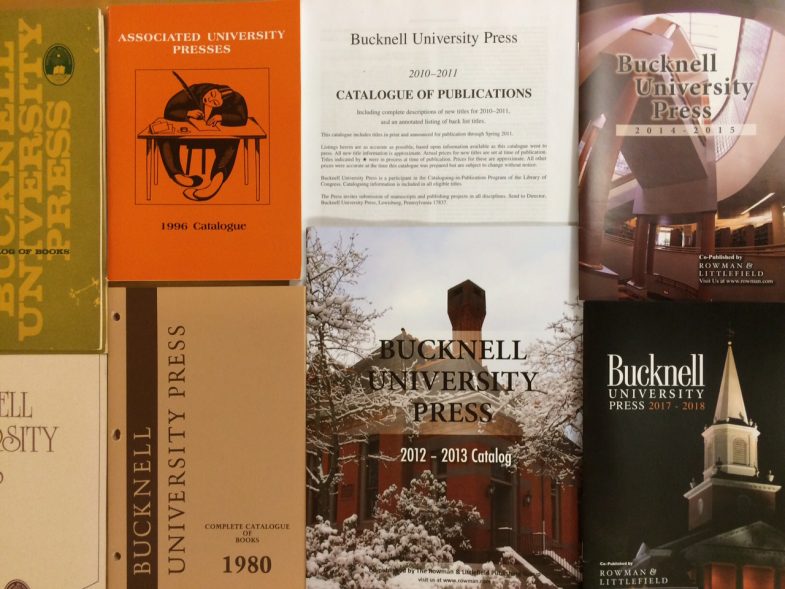 From the 1970s to 2017, the Bucknell University Press catalogs have traced a history of publishing from style and layout to pricing and administrative changes. Each small change signifies a step in the greater evolution of the Press, from a time when there were just 10-12 publications per year to a new average of 35, from one or two original book series to more than ten series today ranging from topics on eighteenth-century Scotland to studies on African America. Beginning with a simple paperback catalog, Bucknell University Press has grown and developed to encompass so much more. Approaching its 50th year of operation in 2018, the Press continues to evolve, releasing new and innovative publications—each one featured in a catalog that will add to the growing timeline of years past.