Bucknell University Press is pleased to announce the rollout of a new colophon, debuting with its fall-winter 2022-23 publications. The fresh design features BUP's name and an icon depicting the recognizable tower atop Bucknell's beautiful Ellen Clarke Bertrand Library, with its distinctive finials and bison weathervane.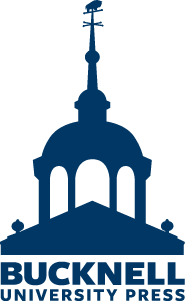 The new branding signals BUP's "intention to advance and evolve, its commitment to the fields and the specialists whose work we publish, and its pledge to reflect and carry the university's commitment to intellectual exploration and scholarly excellence worldwide," according to director Suzanne E. Guiod. "Now in our sixth decade, BUP's hope is that this new graphic identity will resonate with new generations of authors and readers, and become instantly identifiable for the quality and value of the work it represents."
Ghislaine McDayter, Associate Provost for Research and Creative Activity remarked, "As Bucknell University Press continues to evolve as one of the most exciting of the small academic presses in America, this new logo will make it immediately recognizable as a press that remains dedicated to publishing fresh, important new voices in the humanistic fields."
Replacing the university's wordmark, which has long stood in as BUP's logo on book spines and in other branded materials, the new colophon is unique to the Press, symbolizing its clear purpose in the publication and dissemination of innovative research in the humanities.
Prior to the Bucknell wordmark, Bucknell University Press books were branded with the university seal, approved by the university's board of trustees in April 1849 and depicting the sun, an open book, and waves, meant to symbolize the light of knowledge and education surmounting the storms and turbulence of life.
Internationally distinguished in Iberian, Latin American, Irish and global eighteenth-century studies, Bucknell University Press has been publishing in the arts, humanities, and social sciences for more than 50 years. We proudly collaborate with institutional partners like the Griot Institute for the Study of Black Lives and Cultures and the Samek Art Museum, and with learned societies such as the Goethe Society of North America and the Eighteenth Century Scottish Studies Society to publish book series. Our newest collaboration is with the Library of Congress Publishing Office.
To learn more about Bucknell University Press and the books we publish, visit www.bucknelluniversitypress.org.