When the Bucknell University Press released an announcement for a book collecting contest, we received a response from '77 alumnus—Roland Ochsenbein. Though the contest was directed towards current students, Mr. Ochsenbein had an interesting collection to share—a library library. With a degree in English and being editor-in-chief of the Bucknellian his senior year, Mr. Ochsenbein moved on to become involved in the publishing field, his interests revolving around books and good writing.
In 2001, he was asked to take on a leadership position in the expansion and renovation of a tiny historic public library in his small hometown of Bolton, MA.
"It was the kind of civic effort that appealed to me. The expansion project turned out to be a significant nine-year endeavor that required our community to debate not only the value we place on library services, but also what we envision as a library for the next 100 years. Thanks to the work of many–and especially our steadfast library director–the project was a great success in the end."
This endeavor led Mr. Ochsenbein to a seat on the State Advisory Committee on Libraries and then to a gubernatorial appointment to the Massachusetts Board of Library Commissioners. At the same time, he was also working as a consultant for publishing companies in facing the challenges of digital transformation. He even contributed partly to the prototype website for the Digital Public Library of America (DPLA), which launched in 2013 and went on to be named one of the 50 best websites of that year by Time Magazine. As his volunteer and professional life came together, Mr. Ochsenbein realized that a collection was forming out of the several books he had acquired over the years about libraries.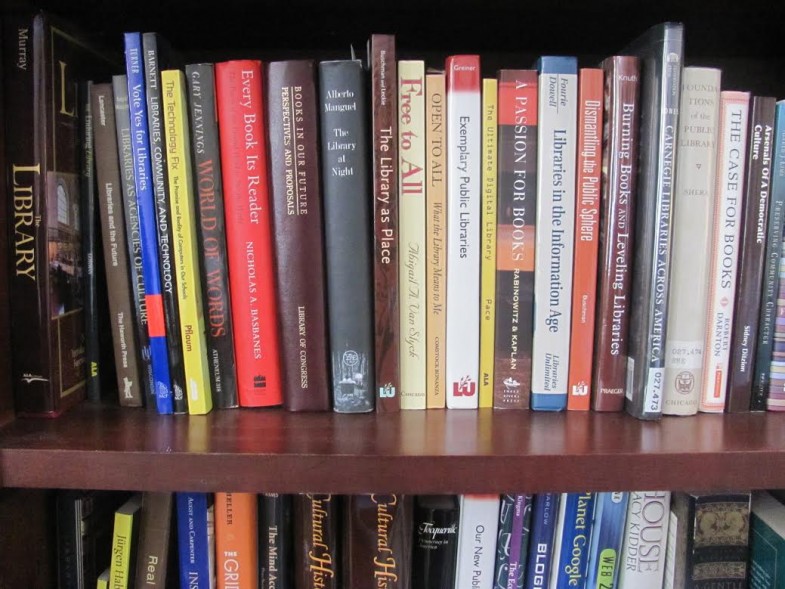 "I have been thinking a lot about how public libraries (physical and digital) are changing, and how publishing and reading and learning and literacy are all changing."
And so, with these interests, his collection began to grow. At this time, there are roughly 50 volumes in his collection, though it is still expanding and has recently begun to include the "capture of blog postings, online essays and other digital forms of communication related to this interest area." While he is broadening to include digital media, Mr. Ochsenbein reveals that his favorite in the collection is a book titled Reading Rooms, edited by Susan Allen Toth and John Coughlan.
"This book is a compilation of essays, stories and poems by well-known writers, all in celebration of our nation's public libraries. Writers such as Eudora Welty, Edith Wharton, James Baldwin, E.B. White, Amy Tan, Stephen King and Philip Roth (Bucknell '54) talk about how the public library, be it a single room in a rural community or an imposing city edifice, has helped influence and enrich lives. I relate to this because I too was influenced and enriched by having access to wonderful local libraries (and librarians!) during my formative years. I feel the same kind of appreciation that is expressed in this book, and that is what ultimately has motivated me to volunteer and work with libraries over the years."
Public libraries in particular, have attracted Mr. Ochsenbein's interest:
"The historian David McCullough once wrote: I believe that public libraries are among—if not the—most important, most marvelous of all of our American institutions. I share that sentiment completely. Public libraries have the capacity to enrich communities and individuals to a degree that no other public institution can. A good public library is a social, cultural and intellectual cornerstone to any community. And it provides access and opportunity for all."
Mr. Ochsenbein's library library is unique to be sure, driven by an admirable fascination with the gem that is the public library. He one day hopes to write about some of his experiences with libraries, either in article, essay, or book form. "Assembling this small working research library about libraries" he claims "is one of the preparatory steps in that effort." Perhaps one day he will be able to add a work of his own to the growing library of libraries!
-Alana Jajko, 2014-15 Cynthia Fell Intern